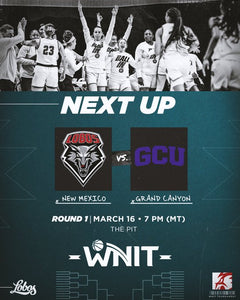 UNM women's basketball team set to host WNIT game tonight
ALL IN AUTOGRAPHS is a proud sponsor of UNM Athletics and as Albuquerque's Premier Sports Memorabilia and Collectable Destination, we're ready to cheer on the UNM women's basketball team.
The Lobos will host Grand Canyon University in the first round of the Women's National Invitational Tournament (WNIT) tonight at The Pit and tipoff is set for 7 p.m.
"They're extremely athletic," head coach Mike Bradbury told The Albuquerque Journal on facing the Antelopes. "They play great defense. They'll press full court and create a ton of turnovers. We have to be strong with the ball."
AIA is in Albuquerque, N.M. on 2225 Wyoming Blvd. (just south of Menaul Blvd) NE, Suite F 87112.
If you have questions or comments about our basketball autographed collectibles, call All In Autographs at (505) 504-7575 or visit ALL IN AUTOGRAPHS – All In Autographs.
AIA has perfect gifts for that sports enthusiast in family or any item for that huge collector.
In his fifth year Mike Bradbury, led the Lobos to a 24-9 record and a second overall finish in the Mountain West Conference.
Unfortunately, Colorado State defeated UNM in the MWC Tournament semifinals, 82-71, which killed any dream of a Women's NCAA Tournament berth.
This is the fourth time in five years that the Lobos are back in postseason history and ninth overall.
UNM was one of four MW teams that were selected for the WNIT and has faced a total of six teams that are in the 64-team field.
The winner of tonight's game will face the winner of San Diego and California Baptist in the second round of the WNIT.
The Lobos received several individual MWC season accolades. Jaedyn De La Cerda, Antonia Anderson and Shaiquel McGruder were chosen by the conference coaches to the all-conference team, and McGruder was named to the all-defensive team
LaTora Duff earned honorable mention and Paula Reus was voted to the all-freshman team.
Tickets for WNIT games are $10 for general admission bench seats and $15 for chairback seating.
You can purchase tickets online at GoLobos.com or at the Pit ticket office.
(Photo courtesy of the UNM Athletic Department)
---