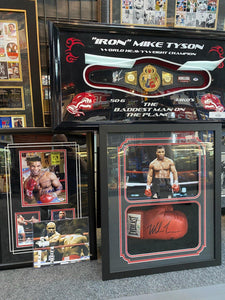 The real question about Mike Tyson?
What hasn't already been said about his career and personal life that has snapped over four decades?
The former boxing legend has been featured in a new documentary "Mike Tyson: The Knockout" produced by ABC News.
The two-part series (part one premiered last Tuesday, the second will air tonight) "chronicles" the skyrocketing rise of Tyson from a homeless, poor child from Brooklyn, N.Y. to becoming an icon in boxing and superstar status around the world.
Tyson was feared in the ring, but his personal life became, not only a topic in America but around the world.
His successes in the ring were overshadowed by his struggles in his personal life.
Tyson became "The Baddest Man on The Planet" in the mid-to-late 1980s in boxing, but a messy marriage with TV Star Robbin Givens and a 1992 rape conviction later in his career overshadowed what he accomplished as an athlete.
The series features "new interviews with actor and boxing enthusiast Rosie Perez, former President of HBO Sports Ross Greenburg, ESPN's Jeremy Schapp, those in Tyson's inner circle, and more."
"(Tyson's name was) synonymous with the big names: Jesus Christ and Mike Tyson," said Former World Heavyweight Champion Shannon Briggs in the first part of "The Knockout" documentary.
With the second part of the series will focus on Tyson's conviction and prison sentence for raping 18-year-old Desiree Washington and how the trial and public dealt with the "victimization and the fall of a hear."
Tyson also dealt with an addiction to cocaine, moving forward from the death of his daughter, he quickly became one of the most vilified sports figures, but most popular athletes in America in the 1990s.
"The Knockout" will also focus on Tyson's comeback in the sport of boxing and his bouts against Evander Holyfield. Including the infamous moment when the big Holyfield's ear during a fight in 1997.
ABC conducts current interviews with Tyson, and he dives into his persona and professional life as he talks about his successes and regrets.
Again, "Mike Tyson: The Knockout" will conclude tonight at 7 p.m. on ABC.
At All In Autographs, the store features several signed pieces from Tyson, spanning the success of his career as one of the greatest boxers in history. Whether it be a signed pair of trunks, boxing gloves , or a replica of the world heavyweight champion title belt.
The picture below shows pieces in the retail store.
---