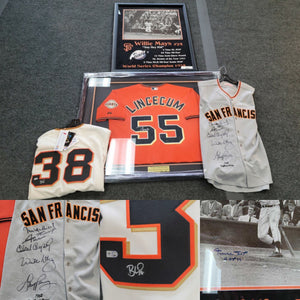 Giants are MLB darlings in '21, AIA has some legendary SF signed pieces
The odds for the San Francisco Giants to win the World Series heading into the 2021 Major League Baseball season were 60 to 1.
The Giants are now 12 to 1 because of their play and currently hold a 48-26 record.
 No one can blame Las Vegas and other oddsmakers around the country for thinking that there was no way the team by The Bay could be leading the National League West or post the best record in baseball this late in June.
San Francisco has found a gem during the first half of this season with starting pitcher Kevin Gausman, who has been much of surprise in both the National and American Leagues.
If it were not for the godly performance of New York Mets ace Jacob deGrom, Gausman could be leading the league in several different pitching categories.
Guasman currently posts an 8-1 record with a 1.49 ERA.
This Giants team is also on pace to hit the most home runs in franchise history.
While the season is nearing the half-way point, they are still in a dog fight to win the division and earn an NL Wild Card spot.
As of June 25, they have a 4.5 game lead over the defending World Series Champion Los Angeles Dodgers and the up-and-coming San Diego Padres.
Avoiding the normal sports cliché, San Francisco will need to stay healthy. In the last week they have seen minor injuries to daily role players like utility man Tommy La Stella and first baseman Brandon Belt.
However, shortstop Brandon Crawford has returned to his All-Star form his 2015 and 2018 seasons and Buster Posey is playing like one of the best catchers in the league again.
Crawford leads the team with 16 home runs and 49 RBIs and Posey is leading the team in batting average, hitting a phenomenal .322. He also leads the team in total hits with 58.
The Giants now head into a three-game weekend set against the rival Oakland A's.
The Athletics are only two games back of the red-hot Houston Astros in the American League West.
This weekends series is setting up to be a pivotal Battle of the Bay that most baseball experts did not seeing coming into this season.
Here at All In Autographs, we have a wide selection of San Francisco Giants memorabilia.
In store, there is a signed, framed Ted Lincecum jersey. Lincecum is a two-time National League Cy Young winner (2008, 2009). He was a four-time All-Star and was a big component of three World Series wins by the Giants in the 2010, 2012 and 2014; whether it was as a starter or coming in relief.
He also pitched two no-hitters during his career.
All In Autographs is proud to have a few signed pieces by the legendary Willie Mays.
There is a framed, signed 20x20 photo of a Mays at-bat. Below the picture in the frame, is two engraved Giants logos and some of his accomplishments during his playing career, which include being a two-time NL MVP and 24 time All-Star.
All In Autographs has a signed Willie Mays Adirondack baseball bat.
Former fan favorite, odd man and closer for the Giants, Brian Wilson has a presence in All In Autographs: an unframed, signed San Francisco Giants home jersey.
The store also has a Giants legends jersey signed by Mays, Willie McCovey, Gaylord Perry, Juan Marichal and Orlando Cepeda.
These items can be found online for purchase or in the All In Autographs store.
---