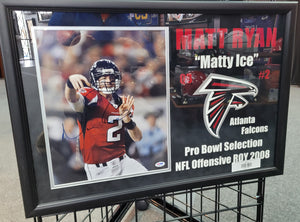 Ryan latest rider on 2022 NFL quarterback carousel
The NFL is still king in the American sports realm.
Amid March Madness and Spring Training, the quarterback carousel of the National Football League has been as topsy-turvy as it has ever been. Between former Seattle Seahawks star Russell Wilson traded to Denver to Tom Brady retiring, Carson Wentz's one-year tenure with the Indianapolis Colts and unretiring and finally to the short-term answer of who will replace Ben Roethlisberger (Mitchell Trubisky); there was the Matt Ryan news.
The 14-year veteran who was the 2008 NFL Offensive Rookie of the Year and 2016 NFL MVP and Offensive Player of the Year, Ryan – who's considered maybe the greatest Atlanta Falcons player of all time – was traded to the Indianapolis Colts on March 21.
All In Autographs - located Albuquerque, N.M. on 2225 Wyoming Blvd. (just south of Menaul Blvd) NE, Suite F 87112 – celebrates Ryan's time in Atlanta.
Albuquerque's Premier Sports Collectable and Memorabilia Destination has two framed photographs signed by Ryan.
Seen in the photo is the "Matt Ryan 'Matty Ice' Autographed Matted Framed Photo," which is authenticated by PSA/DNA No. 3A87360.
AIA has any gift for that die hard football fan you might know. Even during the offseason. From signed photos, footballs, jerseys and trading cards from greats like Joe Namath, Lawrence, Roger Craig, Peyton Manning and Dan Hampton.
If you have questions or comments about our basketball autographed collectibles, call All In Autographs at (505) 504-7575 or visit ALL IN AUTOGRAPHS – All In Autographs.
As for Ryan, the Boston College graduate, who was taken third overall by the Falcons in the 2008 NFL Draft, is Atlanta's franchise leader in wins, career yards, career completions, passing touchdowns and other notable categories.
Ryan said leaving the franchise he had been the face of for over a decade was not an easy one.
"It was hard because I appreciate all of the fans and how kind they've been to me during that time," Ryan told the Atlanta Journal-Constitution. "It's hard to see people go. It's hard to move on. Sometimes it's best for both places."
Ryan will be the fourth quarterback to start for the Indianapolis Colts in the last four years. Prior to former No. 1 overall pick in 2012, Andrew Luck retired prior to the 2019 season, veteran Philip Rivers spent his final season with the Colts, in which he led them to the 2020 Playoffs. Rivers had spent his entire career up to that point with the San Diego Chargers (16 seasons).
Wentz was traded to Indianapolis from the Philadelphia Eagles prior to the 2021 season. Wentz put up good numbers in his only season with the Colts, 27 touchdowns to seven interceptions, but lost a must-win game in the final week of the season against the Jacksonville Jaguars. With a, 26-11, Colts' loss to the Jaguars, Indianapolis was eliminated from the postseason.
Ryan, who is 36 this year, will bring veteran leadership to what many NFL experts and pundits consider a Super Bowl contender in the Colts. He'll be handing the ball off to the 2021 rushing leader in Jonathan Taylor and two talented wide receivers – a trusty veteran and a young star – in Michael Pittman Jr and T.Y. Hilton.
Ryan will also have a stout defense with linebacker Darius Leonard, defensive lineman DeForest Buckner and Kenny Moore II.
---