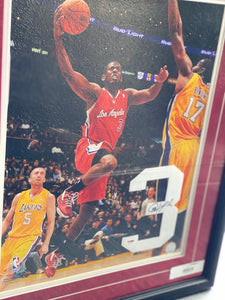 Paul, Suns droughts are over, advance to 2021 NBA Finals
After 15 seasons and multiple playoff failures, in his 16th season, Chris Paul is making his first NBA Finals appearance.
All In Autographs is celebrating Paul and the Suns' achievement of winning the NBA's Western Conference.
Last night's 130-103 win over the Los Angeles Clippers in Game 6 of the Western Conference Finals also ended the Phoenix Suns drought of 28 seasons, since their last Finals birth in 1993. But for Paul it's bittersweet. Given his 16-year career and journey.
Over 1000 games played, more than 130 of the NBA playoff games, five different teams, three different trades, and nearly 30 different jerseys, Paul who has been nicknamed "The Point God," etched his name further in NBA and history, as well as his legacy.
In the store at All In Autographs, we have a 16x20 framed, signed picture of Paul's time with the Clippers, as well as a framed, signed jersey from his teammate and All-Star Devin Booker.
Paul scored 41-points in that Game 6 and nearly outscored the Clippers himself in the fourth quarter with 19 compared to Los Angeles' 20. Paul said to do it in Los Angeles, where he spent playing for the Clippers from 2011-17, that the crowd there still means the world to him.
"I gave six hard years to the Clippers," Paul said in a postgame interview to Rachel Nichols of EPSN. "We fought hard, a lot of these fans – Billy Crystal – that's my family. You know what I mean, to do it here against a team I have the utmost respect for, I will always be a Clipper. I love these fans."
He was the 2013 NBA All-Star game MVP and would help the Clippers reach the second round of the playoffs three times, but never reached the conference or NBA Finals. For the third time in his career, Paul was traded to the Oklahoma City Thunder for superstar Russell Westbrook. He lead the Thunder team to the NBA Playoffs in last year's Bubble during the COVID-19 pandemic. The Thunder would lose in seven games to the team that traded him prior to the season: the Houston Rockets.
Paul is now four games away from earning his first championship as the Phoenix Suns, as they await the winner of the Eastern Conference Finals matchup between the Milwaukee Bucks and Atlanta Hawks.
To get your piece of Chris Paul history and remember him in the privacy of your own home, visit All In Autographs at 2225 Wyoming Blvd. NE, in Albuquerque, N.M. or visit our website to make your purchase online at allinautographs.com. 
---