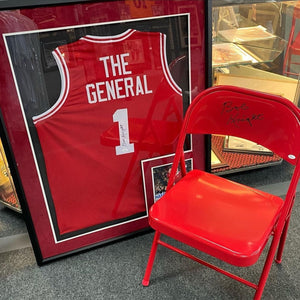 March Madness is here!
While the NCAA Tournament kicks off tonight with the two of the First Four games in Dayton, Ohio, the basketball world is on the eve of its biggest weekend.
The first full day of "March Madness" is less than 48 hours away and staff at All In Autographs can't control their excitement for this year's tournament.
AIA offers a wide range of basketball collectibles or autographed memorabilia. From great professionals throughout the history of the NBA and ABA (Dan Issel, Bill Russell to Kobe Bryant) to legendary college basketball coaches (Mike Krzyzewski & Bobby Knight).
All In Autographs is in Albuquerque, N.M. on 2225 Wyoming Blvd. (just south of Menaul Blvd) NE, Suite F 87112.
If you have questions or comments about our basketball autographed collectibles, call All In Autographs at (505) 504-7575 or visit ALL IN AUTOGRAPHS – All In Autographs.
Coach Bobby Knight or "The General" is considered one of the greatest and most iconic college basketball coaches of all time.
He spent 43 years as the head coach of Army, Indiana and Texas Tech.
Knight gained the most recognition as the head coach at Indiana with the Hoosiers. There he won three national championships in 1976, 1981 and 1987.
His final national championship came with former UNM head men's basketball coach Steve Alford.
In the 1987 National Championship Game against Syracuse, Alford scored 23 points, which included 7-for-10 from the three-point line and hit a buzzer-beater triple right before the first half horn sounded.
Indiana would defeat the Orangemen 74-73 on that night in New Orleans to claim Knight's final title.
He would spend his final eight seasons in Lubbock, Texas at Texas Tech University, where he rejuvenated the Red Raiders basketball program and only missed the NCAA Tournament two years during his tenure.
Knight is most famous for his temper and demeanor on the court. Most notably, throwing a chair on Feb. 25, 1985, from the Indiana bench while the Hoosiers were playing the Purdue Boilermakers. Early in the first half, Knight was upset with officiating and calls made. Knight would earn his third technical for the incident and was ejected.
Since the incident, he has grown to have a sense of humor about it, saying he threw the chair on the other side of the court because an old lady needed a seat at the other side of the court.
Bobby Knight throws chair, gets ejected vs. Purdue in 1985 [Full Incident] | College Basketball - YouTube
All In Autographs has a signed red chair by Knight in the store, that is authenticated by James Spence Authentication (COA #WP884614). The Indiana Hoosier-colored chair is available for sale in the store, online or eBay for $2300.
While Knight, has been at the center of several conspiracies throughout his coaching career, he did finish with a 902-371 record.
---