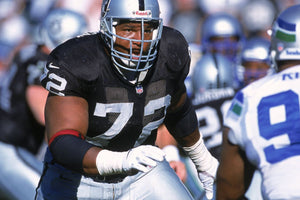 Lincoln Kennedy: a force on the field and on the play call
Standing 6-feet-6-inches and weighing over 300 pounds, a person who doesn't watch football might be intimidated by Lincoln Kennedy. He intimidated many and was a brute force on the football field.
But off the football field, it's a different story. He's that of a gentle giant. He is soft-spoken, easy going, humble and just an all-around nice guy.
His big stature on the football field, along with hard work, translated to a plethora of success and a tremendous college and professional football career.
Kennedy began his career at the University of Washington and helped lead the Huskies to three straight Rose Bowl game appearances from during the 1990, '91 and '92 seasons. Washington would win back-to-back Rose Bowls in 1991 and 1992, before losing to Michigan by a touchdown in the 1993 Tournament of Roses.
He was one of the most dominant linemen in the country and he helped Washington win a National Championship in 1991. The Huskies posted a perfect 12-0 record. 
In 1992, for his efforts as an offensive lineman (tackle), he was a consensus All-American.
He said of his accomplishments, that it is a tremendous honor to win accolades and that scouts, coaches, and fellow players have taken notice throughout the career of his play.
"You know, one of the things that I've been humbled by is that people have thought – highly – more highly of my skill set than I did." Kennedy said. "What I mean by that is, I thought I was a decent football player, but I never thought I was good as people touted me to be. I'm just really humbled by the accolades and the things that come with playing football." 
He was drafted highly in 1993. Ninth overall by the Atlanta Falcons.
"Being recognized as one of the best when you get drafted at No. 9 overall," Kennedy said. "That's really a big thing to people, but to me, it was just something I was thankful for and happy to accomplish. But by no means, did I take it for granted."
His time in Atlanta was a learning experience as a young professional. It wasn't the start of a career experts and pundits had in mind for Kennedy. He struggled.
"I worked hard, and I wanted to do my job as best as I could and when I did it," Kennedy said. "I took pride in being a part of teams and being a part of other groups that really looked out for another. I just wanted to do the best I could."
And Kennedy turned his career for the better when he was traded from the Atlanta Falcons to the Oakland Raiders
Oakland acquired Kennedy in 1996.
Kennedy played in 121 games with 119 starts in eight years in Raiders. He was selected for three Pro Bowls and named 1st Team All-Pro once.
He also nabbed three-straight Pro Bowl appearances from 2000 to 2003 in the Bay Area.
Under head coach Jon Gruden, Kennedy helped the Raiders become a dominant force in the American Football Conference, becoming perennial Super Bowl Contenders in the early 2000s.
Kennedy said that former owner Al Davis was good to him after he was traded from Atlanta to Oakland.
"He gave me a second chance," Kennedy said. "I needed to make something of myself, and many people were writing me off. What I wanted to do was rebound and do better in Oakland then I had in Atlanta.  The Raiders organization has a special place in my heart and I'm so thankful to say I can be a part of that organization in any capacity."
They reached the AFC Championship Game in 2000, only to be knocked out by the eventual NFL Champion Baltimore Ravens. The following year, they are the "Tuck Rule" away from reaching back-to-back AFC Championship Games. But it was the 2002 season where Kennedy and the Raiders shined.
Kennedy blocked for quarterback Rich Gannon who won the NFL MVP in 2002. The Raiders offense was a well-oiled machine under head coach Bill Callahan.
Kennedy said he has nothing but respect for Gannon on and off the field and respected his career and accomplishments, just not during his 2002 season but his career.
In 2002, the Raiders would get over the hump and finally reach a Super Bowl for the first time since 1983. Over time, Super Bowl XXXVII time has been dubbed as "The Gruden Bowl." Gruden rejuvenated the Raiders in the late 1990s and early 2000s to become Super Bowl contenders, but he was traded to the Tampa Bay Buccaneers to become their head coach prior to the '02 season.
Kennedy said he is still thankful he had the opportunity to play in that Super Bowl with the Raiders despite losing the game 48 to 21 to the Buccaneers.
"I wish we could've finished that season by winning the Super Bowl," he said. "But - you know - when those things do happen, you don't take them for granted. You make to make the best (of the situation) and I think (the Raiders) did that. Unfortunately, we weren't able to close the deal."
Kennedy would play one more year for Oakland in 2003 before transitioning to broadcasting in 2004.
He currently is the Las Vegas Raiders color analyst alongside legendary play-by-play announcer Brent Musburger. He's done that since 2018 on Raider Nation Football 920 AM in Las Vegas.
"Commentating with Brent Musberger, calling games is very special to me," Kennedy said. "I'm just trying to keep that Raider love alive."
But how was playing football to analyzing it for Kennedy?
He said the transition came easy to him when he realized he was going to retire from football.
"I was trying to figure out what was going to be next for me, so that was a big deal," he said. "Developing my own voice and being in the media was a little bit of a surprise for me. I didn't think it was going to happen and I kind of fell into it. I've been fortunate to have the luxury to make the best of it ever since."
But for Kennedy, he says he can't point out one specific accomplishment that speaks volumes to him.
He said it is his entire career.
"I guess just the accomplishment of creating lifelong friendships with my teammates," Kennedy said. "Whenever we see each other or run into each other, it is like a fraternity. A brotherhood. So we catch up, to be a part of their lives and to have them be a part of mine, it is really special."
Kennedy will be making an appearance at All In Autographs on the weekend of Aug. 7th and 8th and will be signing memorabilia (jerseys, helmets, footballs, and pictures. To own a piece of Raider history and celebrate Kennedy's career in the privacy of your own home or business, visit All In Autographs at 2225 Wyoming Blvd. NE in Albuquerque N.M. or visit our website and make your purchase online at allinautographs.com.
---