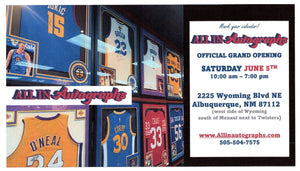 GRAND OPENING! 6/5/2021
Do you know what Albuquerque has been missing for a long time?

A retail store where locals can go to reminisce and buy signed memorabilia from sports, music, entertainment, and history.

Now they have one. All In Autographs is a new edition to The Duke City with an emphasis on signed keepsakes.

The store does not just focus on signed college or professional sports jerseys, balls or pictures, but has a large has a wide range of signed entertainment (music and film) collectibles, as well as signed pieces from U.S history and history around the world. All In Autographs does have plenty f sports autographed items, but they also have guitars, comic books, photos, boxing gloves, film scripts, historical archives and much more.

Co-owner's Shane Westhoelter and Aprilyn Chavez Geissler had discussed the idea of opening a store like All In Autographs for some time, but the idea got into motion early in 2021, even during a worldwide pandemic. Aprilyn Chavez Geissler and Shane Westhoelter already have a professional connection, as Westhoelter is the CEO of Gateway Insurance and Financial Services, and Chavez Geissler is the First Executive Vice President of that national company. This new venture is a way for them to bring to Albuquerque some unique opportunities and help raise money for local organizations and charities. Through All In Autographs, they plan to bring in celebrities monthly for appearance "meet and greets", autograph sessions, and use a portion of the proceeds raised to give back to the local community, organizations, schools and charities. They will bring in celebrities of all types, sports, music, actors and national leaders.
The Grand Opening was Saturday, June 5. It included some familiar faces from the realm of New Mexico greats. One special guest was ormer UNM football and Los Angeles Rams wide receiver Preston Dennard. In his eight-year NFL career, Dennard nabbed 282 receptions for over 3000 receiving yards with 30 touchdowns. Dennard helped the Los Angeles Rams win the NFC in 1979. However, Los Angeles fell to the Pittsburgh Steelers in Super Bowl XIV, 34-19.

Dan Issel, fifteen-year ABA and NBA veteran signed balls, jerseys and photos. He played his college ball at the University of Kentucky under legendary coach Adolf Rupp. Issel played for the Kentucky Colonels of the ABA and the NBA's Denver Nuggets. He was a 1977 ABA Champion, 1971 ABA Rookie of the Year, a seven-time ABA All-Star, a member of the ABA All-Time Team and selected to the NBA All-Star Game in 1977.

Kenny Thomas, UNM Logo Basketball star and NBA Sacramento Kings was also at All In Autographs for autographs and photos.

The store supports celebrities, local charities and foundations, through fundraising and by giving a portion of these private signing appearances proceeds to organizations in need.

To see more about this new location visit allinautographs.com or call the store at (505) 504-7575.

All In Autographs is located at 2225 Wyoming Blvd. NE Suite F, next to the Twister's and the old Souper! Salad!


---