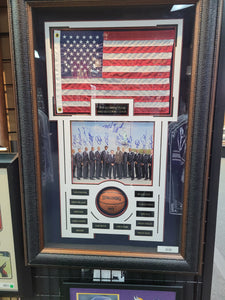 End of an era for Coach K
Forty-seven years later, in which he amassed over 1200 wins, 13 Final Fours berths, five National Championships and five gold medals as the front man of USA men's basketball, Duke head men's basketball coach Mike Krzyzewski is embarking on his last weekend with Duke University.
Simple known as Coach K, he might be considered the greatest head college basketball coach in history.
And All In Autographs is celebrating Krzyzewski's legacy and career as a basketball legend.
AIA has a shadow box piece autographed by Krzyzewski and members of the 2008 FIBA U.S. men's basketball championship team. Also known as the "Redeem Team."
All In Autographs is in Albuquerque, N.M. on 2225 Wyoming Blvd. (just south of Menaul Blvd) NE, Suite F 87112.
If you have questions or comments about our basketball autographed collectibles, call All In Autographs at (505) 504-7575 or visit ALL IN AUTOGRAPHS – All In Autographs.
This Saturday, Krzyzewski will coach is in 13th Final Four and while it will be his last, it might be as most memorable as his first national championship with Duke in 1991.
He will play rival North Carolina. UNC and Duke's basketball rivalry considered one of the best in all of American sports and maybe the best in all of college basketball.
"I haven't looked at it as us vs. North Carolina," Krzyzewski told USA Today on March 29. "I've looked at is as, 'we're playing in the Final Four, so the history of (the rivalry) I have not paid attention to. …(Saturday)'s most amazing day in college basketball to bring four champions together to play for another championship."
And champions will be front and center at this year's Final Four in New Orleans at the Ceasars Super Dome.
All four participants (Duke, North Carolina, Villanova and Kansas) on Saturday have combined 17 championships. The last two coming from Villanova in 2016 and 2018.
This will be the first time, in their storied rivalry that the Tar Heels and Blue Devils have played in the NCAA Tournament in their history. Two schools that are only eight miles apart in North Carolina.
UNC spoiled Coach K's last home game on March 5, with a 94-81 win, at Cameron Indoor Stadium.
Krzyzewski said Saturday's game is a new day and just another opportunity.
"I really think each of us was a different team," he told Sports Illustrated. "We were different when we played them there (Feb. 5), and so were they. Theyn we played them her (March 5), they had developed into an outstanding team, and we weren't at that time. We're going to hae two really good teams play against one another (on Saturday). Whereas, the last two games, we were better than them at that point, and they were better than us at the other point. And, now, we'll see what happens."
The Final Four tips off this Saturday. Kansas and Villanova is set to start at 4 p.m. on TBS. Duke and North Carolina will continue their rivalry 30 minutes after the conclusion of that game.

---