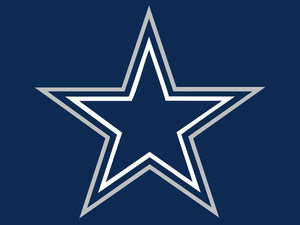 Cowboys featured on 'Hard Knocks' for third time in 20 seasons
The Dallas Cowboys are already the most polarizing teams in the National Football League.
If you are even an avid football fan, then you know the spotlight is on them win or lose.
And the Cowboys will have no shortage of time in the limelight in 2021.
They've been selected to be on HBO's "Hard Knocks" for the third time in 20 years.
"Hard Knocks" is an annual summer series diving into a look of training camp life of a NFL team.
And at All In Autographs, we're celebrating the Cowboys return to HBO.
Marking the 20th anniversary of the show, this year's season will run again on Tuesday nights. It will start on Aug. 10 and conclude on Sept. 7.
The Cowboys previously appeared on the show in 2002 and 2008.
"The Cowboys are one of the most storied franchises in NFL history and a team that elicits strong reactions from fans around the world," Ken Rodgers, NFL Films VP, told CBS Sports. Tens of millions of fans love them, but just as many people love to hate them. Either way, when the Cowboys show up, people watch, which makes them perfect for 'Hard Knocks.' This year, their high-profile status as 'America's Team' is paired with uniquely interesting storylines. We can't thank Mr. (Jerry) Jones and Coach (Mike) McCarthy enough for letting us tell the story behind what we hope is the beginning of an exciting year in Dallas."
The Cowboys are coming off a disappointing 2020, in which they went 6-10 under first-year head coach Mike McCarthy.
Dallas is looking to return to the NFL postseason for the first time in three years and are hoping 2020 MVP candidate Dak Prescott will return to 100 percent after suffering a gruesome Week 5 leg injury in a win over the New York Giants.
Many pundits and experts consider the Cowboys to have one of the league's top offenses with running back Ezekiel Elliott and wide receivers Amari Coopper and CeeDee Lamb.
And of course, the 30-person NFL Films camera crew will have their sights set on every move owner Jerry Jones makes over the course of the training camp.
In a statement released by the NFL, the camera crew will compile more than 1,750 hours of football over the course of the season with camera and sounds crew getting "unencumbered access to players' and coaches' meeting rooms, training rooms, living quarters and practice fields."
All In Autographs holds several pieces of Cowboy memorabilia. From signed and framed Roger Staubach jerseys (both home and away) to signed footballs and jerseys by members of the 1990s "Triplets" (Troy Aikman, Michael Irvin and Emitt Smith).
The store also has a signed logo football by "Primetime" himself, Deion Sanders.
To get your piece of Dallas Cowboy history and remember "America's Team" in the privacy of your own home or business, visit All In Autographs at 2225 Wyoming Blvd. NE in Albuquerque N.M. or visit our website and make your purchase online at allinautographs.com.
---