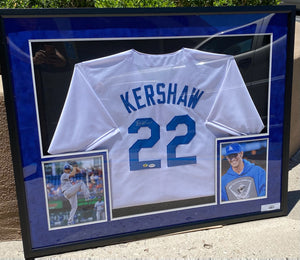 Clayton Kershaw still doing Clayton Kershaw things
It hasn't been the typical Clayton Kershaw-type year.
Eight wins to seven loses. And his ERA is well over three runs per game.
But the former 2011 Triple Crown winner and three-time NL Cy Young Award winner is still one opposing ball clubs don't want to see on a lineup card.
And he proved it last night on ESPNs Sunday Night Baseball.
Kershaw dominated the Chicago Cubs in a 7-1 win at Dodgers Stadium.
It was a blast from the past. Kershaw looked like the Kershaw of old.
In his 101-pitch outing against the Cubs, Kershaw threw 70 strikes, which is a season-high and the fifth most of his Hall of Fame 14-year career.
He did get some help from the Dodgers offense, as they exploded for six runs in the second inning.
But it was Kershaw's slider that was the Cub killer. Chicago had 26 swings and mises and 22 of them were when Kershaw used his slider.
"I was getting some swing and misses on the slider, I was able to use it to both sides of the plate, and I told Dave (Roberts, Dodgers manager) that any time you get to pitch a 4:15 p.m. game in Dodger Stadium with the shadows, it's a good game," Kershaw told The Los Angeles Times. "It's not easy to see there, so I'll take it for sure."
The win improves his record to 9-7, and his unusual high ERA took a slight dip down to 3.25.
The Dodgers took three in the four-game weekend series over the Cubs.
It was much needed after getting swept by division and California rival, the San Diego Padres earlier in the week. Not to mention the Dodgers were no-hit by the Cubs on Thursday night in the series opener.
Chicago used four pitchers throughout the game.
But Los Angeles is still amid a tight National League West race with the Padres and San Francisco Giants.
The Sunday night win for Kershaw and the Dodgers is huge, as they head into a two-game homestand against the Giants starting on Monday, June 28.
Kershaw is set to take the mound later in the week. The Dodgers hit the road after the homestand against San Francisco as they hit the east coast for two series against the Washington Nationals and Miami Marlins.
And at All In Autographs, we're celebrating not only the Los Angeles Dodgers but Kershaw's legacy and greatness.
The store has a framed, home Dodger jersey signed by Kershaw features two pictures in the frame. This Kershaw jersey is featured along with other Dodger and baseball memorabilia can be found in the online store for purchase as well as All In Autographs store.
---