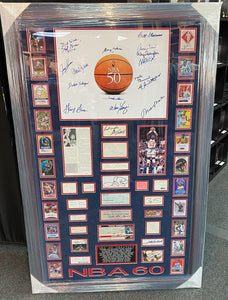 Celebrate the NBA Playoffs with the NBA Greatest
The NBA Playoffs are heating up as the tournament is in the thick of the second round.
And All In Autographs is celebrating those who are attempting to reach the pinnacle of NBA Finals lore and greatness in the sport of basketball on its biggest stage.
AIA has a new piece signed by the 50 Greatest Players in NBA History when the league celebrated its 50th birthday in 1996.
The 50 Greatest Players in NBA History was voted by select panelist and the players were voted without regard to distinct positions.
Voters did not rank the picks that they made during the selection process and former players were not allowed to vote for themselves.
According to NBA.com, the 50 Greatest featured "one hundred and seven NBA championships" and "more than 400 hundred NBA All-Star Game selections," and "nearly one million points scored."
Some of the greats are Kareem Abdul-Jabbar, Michael Jordan, Julius Erving, Luke Walton, Oscar Robertson, and Jerry West.
This collectible is a little different and goes an extra mile.
The keepsake also features signatures from another 10 players who have been added to that list: essentially the top 60 players in league history.
This piece also includes additions of the likes of Kevin Garnett, Dirk Nowitzki, Dwayne Wade, Kobe Bryant, and Chris Paul (who is still playing in the league).
The piece is featured in All In Autographs and is for sale, priced at $28000.
We also have a new signed shadow box featuring pictures and stats signed by Michael Jordan, Ervin "Magic" Johnson, and Larry Bird.
The framed collectible features pictures from there year on the 1992 U.S. men's basketball team ("The Dream Team") and photos playing for their respective teams during their careers.
This one-of-a-kind framed piece of professional basketball history is also for sale at All In Autographs for $6400.  
---