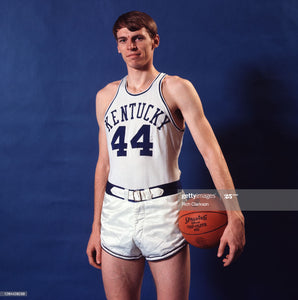 AIA, Issel staple of March Madness
It's March and hearing "U-K" is a norm in the third month of the year.
Kentucky basketball and the month go together.
And what better way to celebrate the first full day of the NCAA Tournament – March Madness – and the University of Kentucky Wildcats – a blue blood of college basketball – are back at the top of sport.
Led by John Calipari, Kentucky is a No. 2 seed in the East Region and will play their opening round game against St. Peter's on March 17.
All In Autographs is celebrating March Madness the store has had a basketball and Kentucky legend appear at the store: Dan Issel.
AIA has several pieces signed by Issel, who was nicknamed "The Horse." Whether it be a basketball, pictures, Kentucky Colonels or Denver Nuggets jerseys or Beckett Authenticated trading cards.
All In Autographs is in Albuquerque, N.M. on 2225 Wyoming Blvd. (just south of Menaul Blvd) NE, Suite F 87112.
If you have questions or comments about our basketball autographed collectibles, call All In Autographs at (505) 504-7575 or visit ALL IN AUTOGRAPHS – All In Autographs.
Issel played at Kentucky under Hall of Fame coach Adolph Rupp, where he set 23 school record which included most point and rebounds. He led the Wildcats to three SEC championships.
Even more impressive, he averaged 33.9 points per game his senior year.
In the 1970 NCAA Tournament he helped Kentucky get to the Elite Eight and averaged 36 points per game.
He had a stellar ABA and NBA career. He played with the Kentucky Colonels and Denver Nuggets.
 (Photo Courtesy of the Kentucky Athletic Department)
---